DRE Ventura CS2 Anesthesia System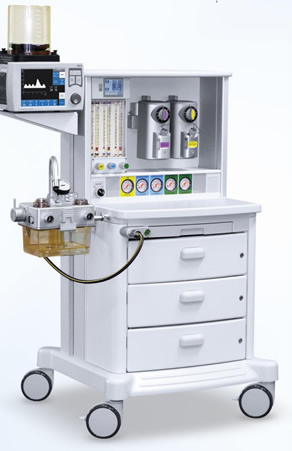 Product Description
Modern anesthesia delivery at an affordable price.
The DRE Ventura CS2 is an anesthesia machine featuring a touchscreen ventilator with advanced ventilation parameters. Featuring a pull-out writing shelf, an integrated oxygen monitor, an autoclavable absorber and locking drawers for added security.
FEATURES
Integrated touch-screen display.

Bright illuminated display.

Adult, pediatric and neonatal modes.

State of the art ergonomic design.

Constructed of high quality American and European materials.

CO2 absorber is autoclavable (excluding the manometer).

In the off mode, you can remove and refill the absorber canister without losing fresh gas.

Two/three gas machine with a two-station Selectatec® backbar with up to four cylinder yokes.

The oxygen flush is mounted next to the common gas outlet and is recessed for safety.

Both sides of the machine incorporate the GCX™-style tee-slot for mounting ventilators, monitors and other ancillary equipment.

Advanced ventilation parameters: Pressure control ventilation (PCV), Pressure support ventilation (PSV), Volume control ventilation, SIMV, SMMV, Auto-peep
SPECIFICATIONS
Overall dimensions: 130 cm (H) x 72.7 cm (W) x 66.7 cm (D)

Weight: 110 kg

Top shelf dimensions: 60.5 cm (W) x 35 cm (D

Maximum top shelf loading: 35 kg

Work surface dimensions: 60.5 cm (W) x 35.0 cm (D)

Work surface height: 81.5 cm

Drawer unit dimensions (internal): 3 drawers: 48.2 cm (W) x 31.8 cm (D)

Maximum drawer loading: 35 kg

Writing Tablet dimensions: 35.3 cm (W) x 30.0 cm (D)

Casters: 125 mm (front wheels braked)

Vertical dovetail mounting system: Three on each side of machine
Vertical Tee Slot Mounting System (GCX™)
Tee Slot mounting system is mounted on both sides of the machine.

Height adjustment: 22.5 cm to 127.5 cm

Maximum loading: 30 kg
Pneumatic Specifications
Common gas outlet: ISO 22 mm male taper and 15 mm female with 90° swivel.

Pipeline input: DISS.

Cylinder yokes: Up to four.

Oxygen failure device: Nitrous cuts out with low oxygen pressure (air/ oxygen remain).

Oxygen failure alarm: Whistle sounds prior to nitrous cut out.

Oxygen and air high pressure DISS outlets: Two maximum available.
Flowmeter Specifications
On/off switch mounted below flowmeter bank: Shrouded.

Nitrous oxide/air switch: Optional.

Secondary regulators for flowmeter bank.

Mechanical anti hypoxic device: Gear driven with minimum 25 % oxygen concentration.

Oxygen flow range (dual tube): 0 – 1000 ml and 1 - 10 liters.

Nitrous oxide flow range (dual tube): 0 – 1000 ml and 1 - 10 liters.

Air flow range (single tube): 0.1 – 10 liters.
Absorber Dimensions
Height: 34.5 mm

Width: 30.3 mm

Depth: 27 mm

Weight: 9.1 kg

Mounting system: 25.4 mm (1") diameter hole with clamp screw

Absorber leak rate: Less than 25 cc fresh gas flow at 30cm H2O

Canister capacity: 1.4 kg (1600 ml)

Compatible with most anesthetic machine pole mounting systems.
Absorber Specifications
Quick release manometer: -20 to 100 cm H2O

Ventilator connection: 22 mm male taper with 15mm female taper

Swivel Bag Mount Arm: 22 mm male taper with 15 mm female taper

Patient connections: 22 mm male taper with 15 mm female taper

Fresh gas inlet: 1 meter hose with 22 mm female taper

Exhaust taper: 30 mm male
* To see price, Warranty and fees, Talk with the specialist and hear their opinion and order this device, please call one of the following Phones;
* If you Require maintenance or having difficulties;
07706700839

07714446962

07819045581
* You are always welcomed to visit us, from 9AM to 8PM, Every day except Friday
at the following address;
Iraq, Baghdad, Palestine Street, near the Brotherhood Turkmen club

* Or contact us by E-Mail: medical@al-mimar.com
We are online and always ready to take your order!